Customer-Focused Business Operations
Policy on Initiatives
As an initiative for customer-oriented business operations, the Concordia Financial Group has formulated and published its Fiduciary Duty Declaration with the approval of the Board of Directors. The Bank of Yokohama and Higashi-Nippon Bank have adopted a policy based on this Declaration and are working on proposals for customer-oriented asset management.
Fiduciary Duty Declaration
Customer-oriented Support for Asset Formation and Management
1.The Group shall focus on its customers and support the formation of portfolios that are appropriate for customers' life stages, and consistent with their true needs and interests.
In light of the customer's asset and liability situation, knowledge, experience, and objectives for asset formation and management, we will consider an appropriate portfolio based on the customer's life plan and other factors, and propose products and services that meet the customer's needs.

The Group shall provide support that contributes to customers' investment returns over the medium- to long-term.
Provision of the Optimal Investment Products
2.After accurately identifying customers' needs, the Group shall provide products that contribute to customers' asset formation and management over the medium- to long-term.
The Group shall prepare a wide range of investment products to allow it to fulfill the varied needs of its customers.

After examining the characteristics, risks, and other factors related to various products offered by investment management companies and insurance companies, the Group shall provide products that contribute to customers' asset formation and management, and suggest portfolios that take diversified investment into consideration.
Provision of Information to Customers
3.The Group shall accurately and promptly inform customers of information related to investment products, market trends, and other information.
In proposing investment-type products, we will use plain terms and expressions and IT tools to explain important information related to products and services in a way that is easy to understand even for customers with little investment experience, so that they can be convinced.

The characteristics, risks, etc., of the investment-type products we propose will be explained in an easy-to-understand and careful manner so that customers can sufficiently understand them in accordance with the complexity and degree of risk of the products, using materials that make it easy to compare them with similar products.

Through the provision of information on the status of assets held and market trends, etc., we will provide timely and appropriate follow-up services in accordance with the objectives of each customer's asset formation and management, taking into consideration the long-term perspective.

The Group shall enhance transparency, including through providing information related to various fees, in order to contribute to customers' investment decisions.

The Group shall promote support for financial education, in order to enhance the financial literacy of regional communities.
Appropriate Management of Conflicts of Interest
4.The Group shall appropriately manage the selection of products and provision of information to customers, to ensure that customers' interests are not unfairly harmed.
The Group shall select high quality products and provide appropriate products to customers, without bias based on fees paid by companies providing products or being Group companies' products.
Creation of a Structure that Prioritizes Customer Satisfaction
5.The Group shall create an appropriate sales structure that contributes to enhancing customers' investment results, and shall build systems to verify its effectiveness.
The Group shall create various channels as it strives to create an environment where customers can engage in discussions with peace of mind, as well as to enhance convenience for customers.

The Group shall build an evaluation system for employees that takes into consideration initiatives consistent with customers' needs and interests, and relationships of trust with customers.

The Group shall regularly measure customer satisfaction in regard to its services, and build internal systems to reflect feedback from customers in improvements to products and enhancements to services.
Training and Securing Personnel
6.Aiming to provide optimal financial services to our customers, we will develop highly specialized human resources in the field of finance and cultivate a strong sense of responsibility to meet the expectations of our customers.
The Group shall enhance its employees' level of expertise and improve its training systems to train personnel with a strong sense of responsibility in regard to fulfilling the duties entrusted to it by customers, in order to thoroughly implement a customer-oriented approach.
(*)

This declaration applies to the following Group companies: The Bank of Yokohama, The Higashi-Nippon Bank, and Hamagin Tokai Tokyo Securities.
Details of Group Initiatives
Each group company has established a department to supervise customer-oriented business operations and a risk management department.The supervising departments oversee overall customer-oriented business operations by formulating annual plans based on the Declaration and report regularly to the Management Committee etc., developing internal systems, reviewing and monitoring products and services,enhancing training, and conducting customer surveys. The risk management departments monitor customer-oriented business operations from the perspective of customer protection, ensuring the suitability of product proposals and the provision of information, ensure the suitability and sufficiency of each function through periodic reports to the Board of Directors, and provide guidance for relevant departments.In addition, the Board of Directors of the Group supervises the efforts of each Group company.
In addition to complying with all applicable laws, regulations, and rules in the sale of financial products, we will solicit business appropriately in accordance with the solicitation policies set forth by each company and comply with relevant laws, ordinances, etc. concerning the protection of customers' personal information and work in accordance with the policies set by the company.
Customer-Focused Support for Asset Formation and Management
The Bank of Yokohama has adopted a policy based on this Declaration, and is working on proposals for customer-oriented asset management.We disclose indicators related to the results of our customer-oriented asset management proposals.
Furthermore, we have prepared an informative document entitled "Four Promises and Two Ideas" summarizing our approach to asset management based on the Declaration in an easy-to-understand manner and using it in asset management proposals and during follow-up.
Four Promises

For customers considering investment trusts

Promise 1: We will propose asset development and management appropriate to the customer.

We listen carefully to the customer's ideas and propose a plan that contributes to medium- to long-term asset development based on the customer's investment experience and knowledge, income, asset situation, investment objectives, etc.

Promise 2: We will provide the optimum investment products.

We offer a wide variety of products to meet customer investment objectives and risk appetite.

We propose portfolios that provide stable asset management over the medium to long term.

Promise 3: We will provide customers with superior information and highly satisfactory service.

We stay close to our customers after purchase, and provide timely and appropriate information as needed.

We are committed to creating an environment in which customers can consult with us with confidence.

Promise 4: We will work as finance professionals.

We develop human resources with a strong sense of responsibility to meet the trust of our customers and provide optimal financial services.

Two Ideas

For customers with investment trusts

Idea 1: Invest slowly and carefully from a long-term perspective rather than attempting to guess the market.

We convey the importance of holding long-term.

Idea 2: When in doubt, return to the two 'starting points'.

If a customer becomes confused by market price fluctuation, we recommend that they return to the two starting points, namely the 'purpose' of their investment and the 'term' of the investment they were thinking about at the time of purchase.

Bank of Yokohama representatives are there for customers when the market is unstable and to help in returning to the starting points of the investment.
The Bank of Yokohama uses its Asset Management Customer Card and Consultation Sheet for each transaction to carefully listen to the customer's ideas. By adopting a goal-based approach, we share investment objectives with our customers and provide support for asset development and management in line with customer needs.
In addition, we use the Wealth Advisors portfolio analysis tool and the Money Plan Guidebook information tool to support asset development and asset management toward each goal through repeated dialogue with our customers.
What is a Goal-based Approach?
This is a method of considering asset formation in accordance with the future goals of each individual customer, and is based on the concept of setting an ultimate goal and working backwards from there to determine investment policy.

Based on leisure costs and other entertainment expenses, marriage funds, education funds, housing funds, and retirement funds,and other life events, we calculate how much money will be needed in how many years and decide how to approach the goal.

There is no one-size-fits-all approach to goals. We listen carefully to our customers, make the most appropriate proposals, and work with them to realize goals.
Developing a Product Lineup in Line with Customer Needs
In selecting products, we take into account the economic environment and market trends. We offer a lineup of products to meet the needs of our customers, from among not only those handled by our group companies, but also from among those handled by a wide range of moneymanagement firms and insurance companies. In addition, we monitor and check the quality of the products even after their introduction. Twice a year, we have a third-party evaluation organization* analyze their performance. If the results are not satisfactory, we consider halting sale of the product.
(*)

FY2021 results are from the Mitsubishi Asset Brains Company, Limited, and Nomura Fiduciary Research & Consulting Co., Ltd.
Provision of Information to Customers (Introduction of Important Information Sheets)
The Bank of Yokohama has introduced Important Information Sheets for both financial service providers and for individual products in order to provide customers with easy-to-understand important information on medium- to long-term asset development and asset management and in order to enable easy comparison of the following items. By using these Important Information Sheets, we strive to provide easy-to-understand explanations of our investment products across the board.
Basic profits (returns), losses and other risks, and transaction conditions, for financial products and services that we sell and recommend to customers

Attributes of potential customers of financial service providers involved in the development of financial products that we sell and recommend to customers

Reasons for selection of financial products and services that we sell and recommend to customers (including reasons for judging that they are based on customer needs and intentions)

If there is a potential conflict of interest with respect to financial products or services that we sell and recommend to customers,specific details of such conflict (including commissions received from third parties) and the impact of such conflict of interest on transactions or operations

Important Information Sheet (for Financial Service Providers)
Develop a Posture Prioritizing Customer Satisfaction, and Develop and Secure Human Resources
The Bank of Yokohama conducts an annual customer satisfaction survey to gauge customer satisfaction in order to seek the candid opinions of our customers. The survey is conducted using the Net Promoter Score (NPS) to directly ask customers to evaluate our efforts. The results are used to improve our products and services. We continue to improve our efforts to become the bank and staff of choice by offering proposals that contribute to long-term asset development and asset management, and by providing regular follow-up services to reassure customers after purchase (after signing of contracts).
We have held training and study sessions related to customer protection and compliance twice a year for all employees in charge of individual customers in order to raise awareness. After attending the training sessions, we check the level of understanding through e-learning etc. to ensure that the knowledge is retained. In addition, we are working to develop human resources with advanced expertise by encouraging staff to acquire qualifications related to customer protection, etc. In particular, we are actively working to develop human resources with expertise and skills appropriate for financial professionals by encouraging them to acquire financial planner (FP) qualifications.
The status of our efforts for customer-oriented business operations is reflected in the personnel evaluations of both management and staff members. We are working to raise awareness of customer-oriented business operations from the standpoint of personnel evaluations of both management and staff members.

External Evaluation of Customer-Oriented Initiatives
The Bank of Yokohama and Hamagin TT Securities, a Bank of Yokohama Group company, received S+ and S ratings respectively in June 2022 in the R&I Customer-Focused Investment Trust Distributor Evaluation published by Rating and Investment Information, Inc. (R&I).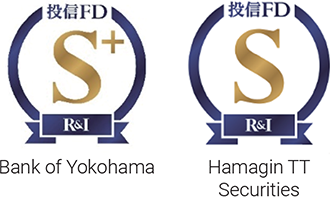 Key points of R&I's evaluation of the Bank of Yokohama (excerpts from the evaluation report)
1. Formulation and publication of policies etc. related to customer-oriented business operations

Fiduciary duty (FD) is positioned as a key issue for customer-oriented business operations. We take a flexible approach to solving issues at sales sites particularly through departments dedicated to promoting the penetration and establishment of fiduciary duty practices and fiduciary duty promotion team meetings. We also focus on revising the fiduciary duty declaration and other documents, and disseminating these principles throughout the company.

2. Pursuit of customers' best interests

The Group has a systematic educational program and focuses on supporting acquisition of qualifications. The Bank is promoting the penetration of fiduciary duty practices in many ways, including active dissemination of information by management, e-learning, various training programs, and the use of leaflets explaining the bank's fiduciary initiatives to customers, as well as confirming retention through fiduciary duty related indicators, such as customer profit and loss and surveys of customers and employees.

3. Investment trust sales policy development and sales and review

In addition to promoting goal-based approaches, core-and-satellite strategies and accumulation, all of which are showing positive results, we are focused on strengthening our ability to make proposals as a group. We strive to provide easy-to-understand information and have an excellent customer follow-up system. We are also actively working to enhance our non-face-toface customer service.

4. Selection and monitoring of investment trusts

In addition to appropriately selecting, monitoring, and suspending sales of investment trusts based on clear processes and rules, we also use information from outside evaluation organizations to improve our product lineup through reviews of fund selections.

5. Appropriate motivational framework for employees

From the perspective of providing solutions, one of the priority strategies of the medium-term management plan, the awards system for regions and districts, is structured away from profits, and incorporates fiduciary duty items. We are also taking fiduciary duty into consideration by such steps as eliminating profit and loss items from individual performance evaluations and incorporating the status of fiduciary duty efforts into evaluations.