Role of Internal Auditing
The Audit Department (the Group's internal audit department), verifies and evaluates the effectiveness and appropriateness of internal management systems and internal controls, including compliance and risk management, from a standpoint independent of the executive divisions, with the aim of ensuring the sound and appropriate operation of business and contributing to the achievement of management goals, and makes recommendations for correcting and improving issue points.
Group Internal Audit System
In order to ensure that methods and standards are consistent within the Group, the Company has established the Basic Internal Audit Regulations based on the policies and regulations established by the Company and its subsidiaries regarding internal audits.
The members of the Audit Department of the Company are generally assigned concurrently to the Audit Departments of the Bank of Yokohama and Higashi-Nippon Bank. This establishes a system for efficient and effective internal audits on a group-wide basis and conducts consistent internal audits, thus strengthening the internal audit function.
The Company's Audit Department conducts internal audits of each department and consolidated subsidiary based on the basic internal audit plan formulated each fiscal year, and reports the results of the internal audits and the status of the executive departments' responses to issues to the Group Management Audit Committee, the Board of Directors and the Audit and Supervisory Board.
In addition, in order to conduct more effective internal audits, we collaborate with auditors, accounting auditors, and departments in charge of internal control functions by periodically exchanging information.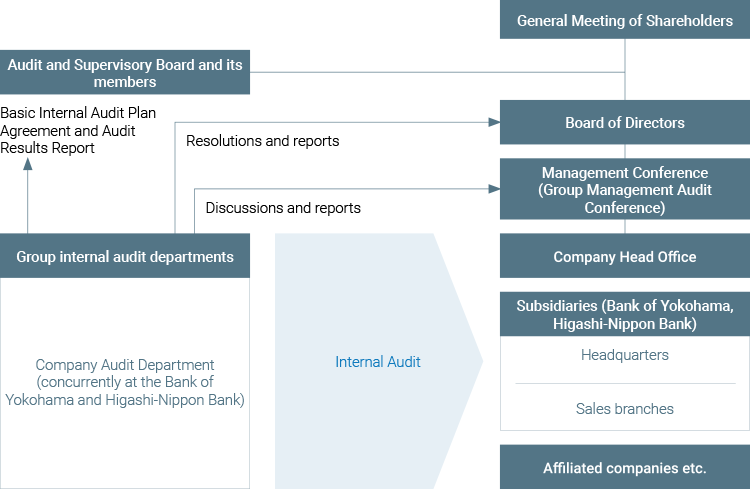 Efforts to Improve Internal Auditing Performance and Efficiency
The Company Auditing Department assesses the risks inherent in the departments and operations to be audited (risk assessment) and determines the scope, frequency, and depth of internal audits accordingly, in order to allocate limited audit resources effectively and efficiently and to conduct riskbased audits.
Furthermore, in order to maintain and improve audit quality, in addition to securing diverse specialized personnel, we work to enhance internal audit resources for the entire group, such as by formulating a training plan for auditing staff and by systematically working on development of personnel.