Message from the President
I would like to express our sincere gratitude to all of you for your generous support. My name is Tatsuya Kataoka and I was appointed President in June 2022.
This is the seventh year since the Concordia Financial Group was established in 2016. In addition to the ongoing challenging business environment, with population decline and aging as well as the normalization of low interest rates, there are the prolonged impacts of COVID-19. The environment is changing significantly and at an even higher pace than ever before, with the acceleration of lifestyle changes, the advancement of digitalization in the economy and society, growing awareness of social and environmental issues, and geopolitical changes.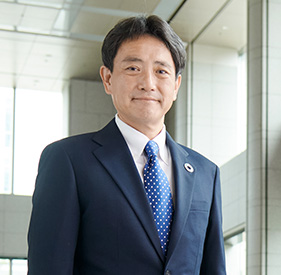 Even in the midst of such changes in the environment, in order to continue to be "an indispensable financial group for the community" as stated in our management philosophy, we have established a new long-term goal of becoming a "solutions company that is rooted in the community and is chosen as a company that works together with the community" based on our determination to become the most familiar company of choice by sincerely addressing the issues faced by local communities and our customers, expanding the range of the solutions, and improving the quality of our services.
Toward achieving this long-term goal, we started a new 3-year medium-term management plan in April to accelerate the transformation that was promoted in the previous medium-term management plan in order to see tangible results. The basic themes that are the three pillars of the plan are "Growth," "Change," and "Sustainability," and the six important strategies that we will rapidly implement are "Deepening and expanding the solutions business," "Utilizing strategic investment and alliances," "Restructuring the human resources portfolio and strengthening engagement," "Digital transformation (DX)," "Contributing towards a sustainable community," and "Developing governance."
The Concordia Financial Group will continue to contribute to the sustainable development of local communities and will also work to strengthen shareholder returns through steady profit growth by providing services that exceed customer expectations and increasing corporate value through sustainable growth.
Your understanding and support going forward is sincerely appreciated.
June 2022
Concordia Financial Group, Ltd.
President and Representative Director