The Concordia Financial Group communicates appropriately with all stakeholders, including customers, shareholders, local communities, and employees in order to strengthen information disclosure. We also listen sincerely to the opinions and requests we receive and use them to improve our management.
The Group strives to robustly disclose management information on its operations so that customers, shareholders, local communities and other stakeholders are able to make appropriate decisions when choosing to engage in transactions with the Group and to invest in its shares. We plan to further enhance the transparency of our operations as a financial group conducting business in a manner inspiring trust from our stakeholders. We disclose information in accordance with the appropriate procedures outlined in our disclosure policy.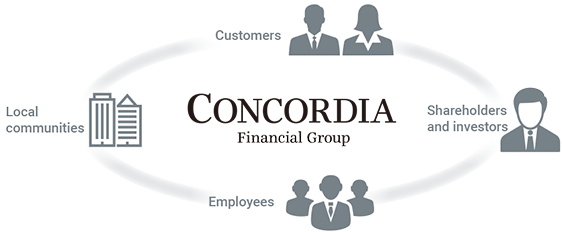 Customers
Local communities

Support for various initiatives

Participation in community activities

Employees

Exchange of opinions with management

Employee engagement survey

Shareholders and investors

General meeting of shareholders and investor briefings
Communication with customers
The Bank of Yokohama actively seeks to improve business operations by collecting and analyzing customer feedback through branch teller windows, call centers, our website, and customer feedback cards.
We Have Put Customer Feedback into Action

Enhancement of smartphone app services

ATM-based cash card magnetic defect repair service

Zero fees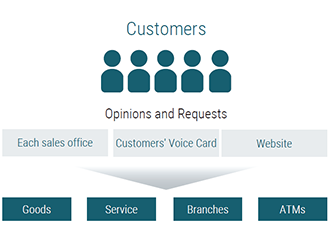 Communication with Local Communities
Cooperation with Volunteer Efforts
Our employees value their ties to the community and actively participate in local volunteer activities etc.
The Group has also established a work-life balance support leave system to support employees' voluntary community activities.
The Bank of Yokohama is cooperating with Food Bank Kanagawa's "Food Drive". This initiative delivers items such as vacuum-packed food donated by households to families and facilities in need. In addition to encouraging customers to participate in our activities at our stores, food items are also donated by employee volunteers. From July 2021 to March 2022, we handled the "Hamagin Food Bank Kanagawa Support Private Placement Bonds", which donated an amount equivalent to 0.1% of customers' bonds to Food Bank Kanagawa, a total of ¥4.41 million.
Higashi-Nippon Bank formed the "Volunteer Caravan" in 1999, and over the years has deepened exchange with the community by playing musical instruments, singing, and dancing at social welfare facilities and other places.
Support for "Child Poverty Issues"
The Bank of Yokohama is implementing the "Hamagin Building the Future Action Program," an initiative to provide activity incentive funds to NPOs in Kanagawa Prefecture that are working to solve the problem of child poverty. Through this program, we will contribute to solving social issues in the community by supporting single-parent families and young caregivers for education and for stabilizing their lives.
Communication with Employees
The company is undertaking various initiatives to share the vision of our management and employees. In formulating the medium-term management plan, the Bank of Yokohama and Higashi-Nippon Bank conducted an all-employee survey and held meetings for executives and section managers to exchange opinions at different levels in order to discuss the long-term goal of the plan in an "employee-participatory" manner. Also, in April 2022 top management including the President visited branches and provided many opportunities for dialog with employees, with the aim of familiarizing the employees with the medium-term management plan.
In addition, in FY2021, the Bank of Yokohama and Higashi-Nippon Bank held President's Roundtable Meetings for young employees and others. During the roundtable discussions, there was a lively exchange of ideas on topics such as change and work motivation.
Also, the Bank of Yokohama introduced an internal social networking site in October 2021 for the purpose of sharing information useful for business operations and revitalizing communication within the bank across the boundaries of workplaces and positions. Utilizing internal social networking sites will help create momentum to freely communicate ideas through non-business communication, and will also create opportunities for communication within the bank, including with management.
Communication with shareholders and investors
We strive to disclose information in a manner that is easy to understand so that shareholders and investors can understand the Group's operations and financial conditions and make appropriate judgments about the soundness of its management. In addition, the Company places importance on opportunities for dialog with shareholders and institutional investors. We have established a policy for initiatives to promote constructive dialog and strive for proactive communication. In April 2022, we established a Corporate Communication Promotion Office in the Corporate Planning Department to strengthen disclosure of information, including non-financial information, and dialog with shareholders and investors.
In FY2021, we held briefing meetings for institutional investors after announcing financial results (full-year and interim results). Videos of the briefing meetings are available on our website. In order to prevent the spread of COVID-19, we will further improve the provision of information while utilizing online and telephone conferences. We also report and share the opinions of shareholders and investors that we obtain through these dialogs with the Board of Directors and management in a timely manner.