Human Resource Strategy(Workplace Reform and Promotion of Diversity)
We regard our employees as human capital that is the source of value creation. We aim to create economic and social value by refining our strength of having diverse human resources that support our community-based solutions business. In addition, employees are important "stakeholders," and our management philosophy states that we will "continue to be an attractive company that employees are proud to work for".
Based on this belief, as the needs of our customers and local communities become more diverse and sophisticated, and as the work ethic and lifestyles of our employees change at an accelerating pace, we are working to enhance the capabilities of each and every employee and to build a highly productive organization that allows our diverse human resources to maximize their potential.
In the new medium-term management plan, in working towards the long-term goal of being "a solution company rooted in communities and selected as a partner to walk together with", we will promote talent portfolio reform by strengthening human resource development and promoting career ownership, as well as will "improve engagement" by promoting diversity, equity, and inclusion and creating a safe, secure workplace. In steadily promoting these initiatives, it is important for the management team, including the subsidiary banks, to be actively involved. By implementing a human resources strategy that is linked to our management strategy, we will achieve sustainable improvement in corporate value.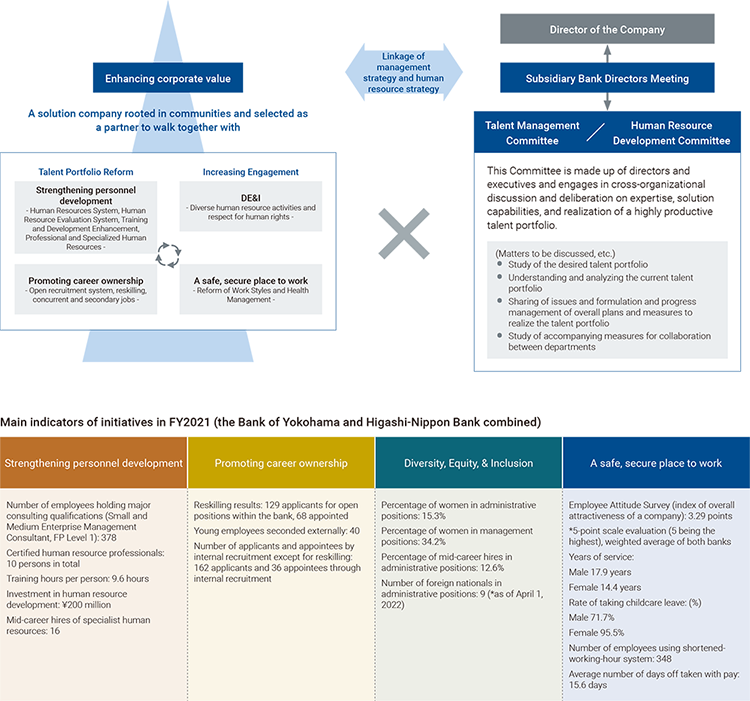 Strengthening of Human Resource Development
We will implement effective human resource development based on on-the-job training, combined with trainings off the job, support for selfdevelopment, and human resource allocation that maximizes the potential of each individual. In addition, we will enhance investment in human resource development in order to realize the required talent portfolio by developing human resources with strong solutions capabilities and specialist skills. In addition, we have established a fair and equitable evaluation and compensation system to motivate each employee and encourage diverse human resources to play an active role in the Company.
Strengthening of human resource development
Strategic human resource assignment and human resource development
We strategically rotate and transfer employees based on information regarding their skills, knowledge, aptitude, and career design, which leads to effective on-thejob training and human resource development in conjunction with trainings etc. off the job. The Bank of Yokohama has introduced a talent management system as a tool to centrally manage this information.

Training implementation and follow-up system
A diverse training menu has been prepared, including position-specific training at each skill level. The training program is designed to raise skill levels in six months in principle, with follow-up after each training session.
Since it is important to link this with on-the-job training and assignments at each division, during the follow-up period, relevant divisions and the Human Resources Department collaborate and the head office and branch offices work together as one team on followup in order to steadily raise skill levels.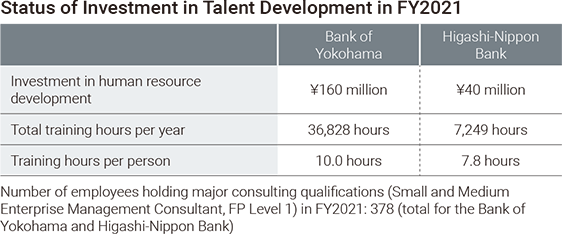 Development of human resources with strong solution capabilities
To transform ourselves into a "solutions company," we are strengthening our investment in human resource development through training and self-development, including the establishment of an effective training system, training expenses, and support funds to encourage the acquisition of qualifications.
In our training system, the higher-level training incorporates practical proposal exercises with outside instructors to strengthen proposal capabilities, while the basic-level training aims for a level where trainees can handle actual projects on their own, and includes practical content that allows trainees to comprehensively learn everything from needs identification to the internal approval process and contract procedures.
In the area of self-development, in order to support the acquisition of advanced public qualifications, we have expanded the existing support funds for the acquisition of qualifications, and have also introduced a new system of career development support funds (to partially cover the cost of attending schools in order to acquire credentials that they offer) and fixed-amount support funds for qualification acquisition (to continue providing a fixed amount after qualification acquisition) in order to support each employee's self-motivated taking on of challenges and growth.
Development of management-level and next-generation leaders
We provide various types of training related to career design and management, matched to the years of experience and level of employees, with the aim of encouraging employees to think independently about their future career development. The Bank of Yokohama is implementing its "Next Generation Management Leader Development Program" as a succession plan for future top management and future executive candidates. We have subjects assessed by external training organizations and give them tough assignments based on themes such as "management skills", "strategic understanding", and "ability to involve others" in order to expand the candidate pool and manage appointments. In addition, Higashi-Nippon Bank implements a succession plan to develop next-generation management leaders at each level of the organization.
Opportunities in specialized areas
Recruitment of specialist human resources
The Bank of Yokohama established a new specialized course for new graduates in FY2021 (starting in FY2022), which enables them to start their careers in the Digital Strategy Department or ICT Promotion Department at the head office, instead of being assigned to sales branches, so that they can put their expertise in digital and IT technologies to use. In addition, we are actively hiring mid-career personnel with high levels of expertise. In FY2021, we hired 16 people in the digital / ICT and other fields.
Professional human resources system
Since FY2019, the Bank of Yokohama has operated a "professional human resource system" for highly specialized personnel. In the midst of an increasing number of human resources with diverse values and career perspectives, the bank has established the foundation for strengthening and developing professional human resources by providing a career path and compensation system that enables them to utilize their strengths and work as "professional human resources" in their field of expertise. Also, the compensation system will provide more incentive to contribute to our results than a normal compensation system. The level of compensation will be determined individually based on factors such as the level of expertise and performance, which may result in compensation at the executive or general manager level. The total number of certified professional human resource personnel is now 10.

Evaluation and compensation system
Evaluation system
We have introduced a human resources evaluation system as a mechanism to motivate each employee and to revitalize the organization, as well as to back up the realization of each employee's career vision and to promote human resources development and skills development. The human resources evaluation system is a series of flows based on annual "Management By Objective (MBO)" for each year, which consists of goal setting, performance evaluation, and feedback through personal interviews. This evaluation system is implemented and operated for the development of individual abilities, from short-term evaluations such as performance and bonus evaluations to mid- and longterm evaluations such as transfers, promotions, and advancement.
Compensation system
We treat our employees fairly and equitably, without regard to seniority or personal factors. We raise each individual's motivation to take on challenges and grow and encourage the activities of diverse human resources by varying how we treat them to a greater extent than before in accordance with the weight of work responsibilities, such as the difficulty and scope of responsibilities and roles, and the contribution to business results, thoroughly applying the principle of capability rather than seniority. We offer the same benefit programs and growth opportunities to all employees, including part-timers, and we comply with the minimum wage and equal pay laws and regulations in each country.
Instilling Career Ownership
We are promoting "instilling career ownership" in order to foster a culture in which each employee thinks independently about their own career, draws career designs autonomously, and acts on them. Based on regular interviews through 1-on-1 meetings between superiors and subordinates, we support career development toward the person you want to be by combining on-the-job training, trainings, an open recruitment system, and self-development.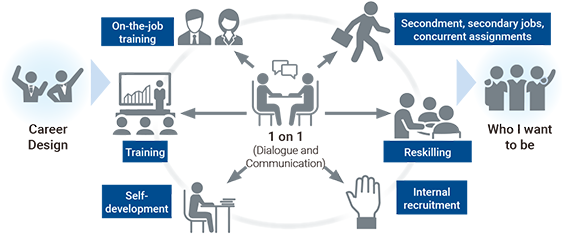 Career development
Open recruitment system (dispatch to domestic and foreign companies, overseas MBA acquisition)
In order to motivate employees to develop themselves and provide them with opportunities for proactive career development, we have established an open recruitment system that allows applications from employees of all career stages, from young employees to managers. There are two types of open recruitment: Head Office Trainee and External Dispatch. Head Office Trainee is mainly for departments such as the Market Sales Department, Loan Department, Digital Strategy Department, and Sales Strategy Department "External dispatch" destinations include Group companies, financial institutions, government organizations, central government organizations, etc. We also provide support for staff to study abroad to obtain an MBA.
Reskilling (capacity building and education)
Based on the concept of career ownership, we actively support the self-motivated challenge to become the "person you want to be" and promote "reskilling" to adapt to the gap between your current skills and the skills required. Applications are invited from candidates for reskilling and various types of training are implemented, and new posts are developed based on reform of store operations. In FY2021, we received 129 applicants, mostly in administrative departments, 68 of whom are taking on the challenge of new roles in the Sales Department and Headquarters.
Number of employees seconded outside the Company (as of April 1, 2022): 40

Reskilling results (FY2021): 129 applicants and 68 appointees in the bank's open recruitment process
Career innovation support system (concurrent / secondary employment)
In October 2021, the Bank of Yokohama introduced the "Career Innovation Support System" in light of changes in the external environment and employees' changing work attitudes. The system supports employees' independent career development by expanding opportunities for them to develop diverse careers outside the company that they cannot experience in their current jobs. The implementation of dual / secondary employment is subject to certain risk management requirements, such as contributing to personal growth and contributing to the core business or the community, and not interfering with the provision of labor in the core business.
Career Consultation Desk
We have established a Career Consultation Desk to promote and support the autonomous career development of our employees. We provide consultation on career development and career paths for employees.
Diversity, Equity, and Inclusion
With the involvement of management, we have established "reform of work styles and promotion of diversity" as one of its materialities, and conduct training for all employees to promote understanding of the promotion of diversity and training on unconscious bias in order to create a workplace environment in which diverse employees can play an active role.
Diversity, Equity, & Inclusion Policy
Through the promotion of diversity, equity, and inclusion, the Concordia Financial Group achieves sustainable growth in corporate value by having all employees, who possess diverseideas and values, make the most of their abilities and create new value.
Supporting Diverse Human Resources in Their Work
Promoting active participation of women
We regard the promotion of active participation of women as an important management strategy and actively hold discussions on the promotion of active participation of women at management meetings. Based on our action plan, we have launched a project for the promotion of active participation of women with the aim of fostering top management and managerial personnel, and are implementing positive actions to improve women's careers, such as identifying management candidates at an early stage, conducting positionbased training to support career development with a view to promotion, and holding round-table discussions with outside directors. Employees who are temporarily restricted in their duties due to life events or other reasons are promoted fairly according to their abilities.
Targets for the Bank of Yokohama and Higashi-Nippon Bank combined (asof the end of FY2022)
Percentage of female in management positions: 18% or more (15.3% as of April 1, 2022)
Percentage of female executives: 33% or more (34.2% as of April 1, 2022)
Hiring locally and appointing foreign nationals to management positions at overseas offices
At our overseas locations, we actively promote the local hiring of human resources who are familiar with local customs and needs. In addition, work standards related to working hours, wages, etc., are translated into the languages used at overseas sites, such as English and Mandarin, and communicated to all employees.
Foreign nationals are actively promoted in accordance with the Group's overseas strategy. The number of foreign nationals in management positions as of April 1, 2022 was 9.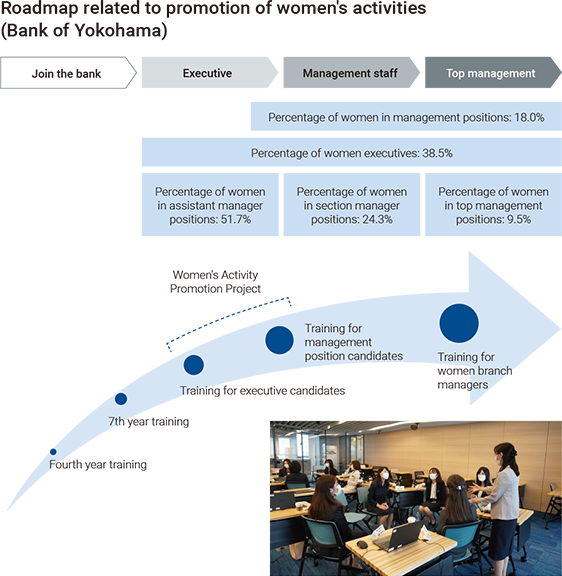 Employment of employees with disabilities
In April 2019, we launched "Hamagin Business Challenged, Inc." to support the independence of persons with disabilities and to realize an inclusive society. In April 2020, certification as a special subsidiary, and in May 2021, certification as an affiliated company of a special subsidiary were obtained. (Hamagin Research Institute, Inc., Hamagin Finance, Inc., and Hamagin TT Securities, Inc. were added to the scope of special subsidiaries.) The Bank of Yokohama's rate of employing persons with disabilities in FY2021 was 2.3%.
Respect for human rights
Group Human Rights Policy
The Concordia Financial Group has established the Group Human Rights Policy and is promoting initiatives to respect the fundamental human rights of customers, employees, and all other stakeholders. In addition to conducting human rights awareness training to deepen proper knowledge and understanding of human rights, we are working to raise employee awareness of human rights by soliciting slogans related to human rights awareness and presenting awards for outstanding work.
LGBTQ
To promote understanding of sexual minorities (LGBTQ), we conduct e-learning training, study sessions for headquarters executives, and holiday seminars. As part of awareness-raising activities to increase the number of allies, we have established a community on the in-house SNS etc. and distribute ALLY stickers to employees who wish them.
In addition, we are accelerating our efforts to respect the diverse family life styles of our employees, for example, by installing coed restrooms in the Bank of Yokohama head office building, and including de facto and same-sex marriage partners in the scope of employees' "spouse" with regard to benefit programs such as leave and payments.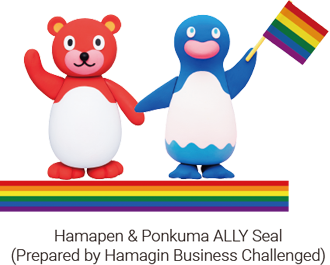 Harassment Consultation Desk and Internal Reporting System (Hotline)
Our work rules clearly prohibit all kinds of harassment, training is provided for all employees regarding prevention of harassment, and training is provided for managers on the actions to be taken when there is a report of harassment. We have established an internal and external "Harassment Consultation Desk" and an internal reporting system (hotline) as a consultation service for sexual harassment, bullying, harassment related to pregnancy, childbirth, childcare leave, nursing care leave, etc., and sexual orientation and gender identity (SOGI) harassment. In addition, a separate contact point has been established for employees to consult on general matters that contribute to the promotion of diversity and inclusion, such as balancing work with childcare and nursing care, and matters related to sexual orientation and gender identity for themselves and those around them, in order to improve the workplace environment. The contents of consultations are kept confidential, and a system is in place to protect the privacy of the consultants and other parties involved.
Based on the Group Human Rights Policy and Diversity, Equity & Inclusion Policy, we will strive for mutual understanding and respect regardless of race, gender, religion, sexual orientation or gender identity, or disability, and create a healthy and rewarding work environment.
A safe, secure place to work
Based on our management philosophy "We will continue to be an attractive company where employees can work with pride", we are promoting flexible and efficient work styles and health initiatives in accordance with employees' lifestyles and life stages as part of our sustainability strategy, positioning them as part of our management strategy.
Efficient Work Styles
Promotion of work style reforms - Hamagin Style, Higashi-Nippon NewStyle -
In addition to introducing flextime systems, annual leave by the hour, telework work systems, satellite offices, etc., we are strengthening our digitalization efforts and promoting diverse and efficient work styles that are not limited by time or location. Along with the promotion of flexible work styles, we are stepping up efforts to raise awareness by visualizing total working hours, introducing an interwork interval system, reducing working hours by improving work efficiency, and implementing refreshment months to encourage employees to take paid leave, including institutional leave.
A safe, secure place to work
Education system for employees on maternity leave
We are increasing opportunities for participation of employees with limited working hours due to life events such as childcare, and enhancing flexible work systems such as shortened working hours and staggered working hours, as well as providing fulltime support (e.g., subsidies for childcare expenses at Bank of Yokohama). In FY2022, in addition to the standard support system, we introduced the "Maternity Leave Return to Work Support Program"to support self-learning during leave.
Support for balancing family and work (including male childcare leave)
We also encourage male employees to take childcare leave, special leave when a spouse is giving birth, work-life balance support leave that can be taken for children's school events, etc. in order to encourage participation in childcare regardless of gender. We are also actively engaged in educational activities, such as training and holiday seminars for all employees on male participation in childcare and measures to prevent employees from leaving work for caregiving, as well as the formulation of a guidebook on nursing care and the introduction of video content. The Bank of Yokohama also has a job return program to rehire employees who have left the company for reasons such as childcare or nursing care if certain requirements are met.
Health management
The Group has formulated the Bank of Yokohama Health Declaration and the Higashi-Nippon Bank Health Declaration, to ensure that all employees, including part-timers, can fully exercise their abilities through health management initiatives. The Bank has established a "Health Management Promotion Liaison Committee" across all departments to practice health management, and is making various efforts to maintain and promote employee health, including establishing a health management center in the head office, individual interviews with industrial physicians for employees who work long hours, a complete smoking ban in the business premises, and walking events. The Bank of Yokohama has been awarded "Excellent Health Management Company 2022 - White 500 -", and Higashi-Nippon Bank has been awarded "Superior Health Management Company 2022" in the large-scale company category of the "Good Health Management Company Recognition Program established by the Ministry of Economy, Trade and Industry and the Japan Health Conference (Nippon Kenko Kaigi).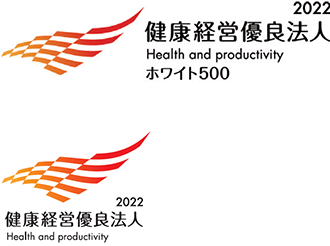 Employee Attitude Survey
We conduct an annual employee attitude survey to accurately determine the attitude of each employee, to clearly understand and diagnose the current status, strengths, and challenges of the organization, and to utilize the results in future management measures, such as for improving the job satisfaction and engagement of each employee.
Index of overall attractiveness of companies: 3.29 in FY2021. *5-point scale evaluation (5 being the highest), weighted average for the two banks
Asset formation support
In order to support employees' planned asset building and foster a sense of participation in management, we have introduced an "Employee Stock Ownership Plan" for all employees of the Concordia Financial Group, the Bank of Yokohama, and Higashi-Nippon Bank, and provide incentive payments according to the amount accumulated.