Promotion of Financial Digitalization(DX)
Through financial and non-financial services that leverage digital technology, we can deliver new experiences and value to local customers and support business growth by providing advanced digital solutions, which contributes to sustainable development of local communities.
Digital Strategy
In the previous medium-term management plan, we worked on cost reduction measures centered on streamlining over-the-counter (OTC) operations for the purpose of structural reform. In the new medium-term management plan, we will seek to improve customer convenience by expanding non-personal transactions through the next smartphone application and the Corporate Portal. In addition, the role of branches will be specialized in the consultation function, and both non-face-to-face and face-to-face channels will be utilized to create a new customer experience in which customers can consult anytime, anywhere.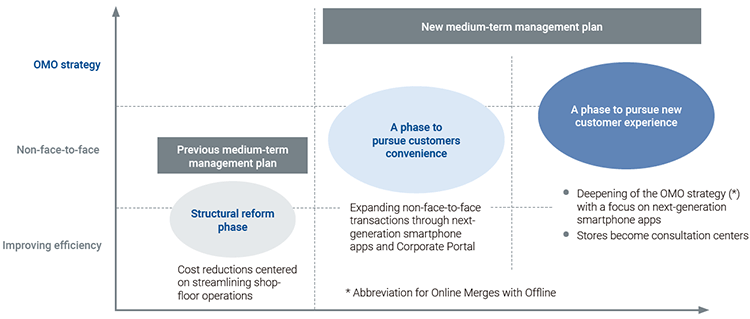 The Bank of Yokohama is engaged in needs-driven sales promotion activities through the use of data. By expanding contact with customers through non-face-to-face channels, we will work to understand customer needs through recommendations based on life events etc. and provide more detailed product explanations and advanced consulting based on their intentions. In addition, contact centers and sales branches aim to become "consulting points where digital and people are integrated".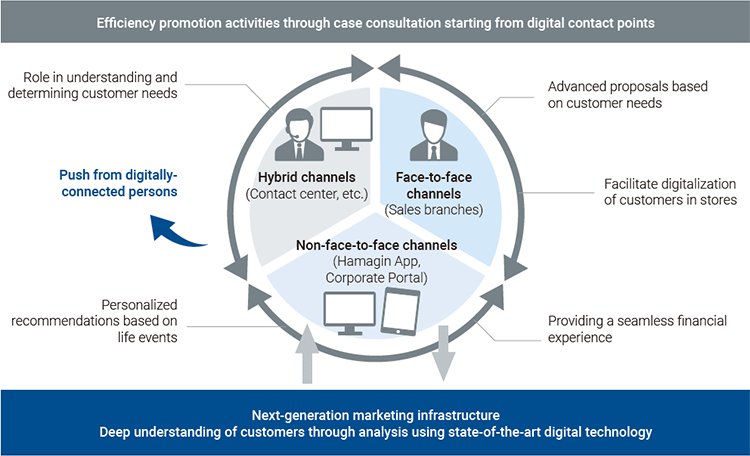 Establishing a System to Promote Digital Transformation
The Concordia Financial Group has established "contributing to the sustainable development of local communities by delivering new experiences and value to local customers through financial and non-financial services using digital technology and supporting business growth by providing advanced digital solutions" as the basic concept of its digital strategy in the new medium-term management plan. The Company will formulate a group-wide digital strategy, as well as monitor and control subsidiaries that implement various measures.
Our subsidiaries the Bank of Yokohama and Higashi-Nippon Bank will enhance convenience for customers and strengthen communication with customers by expanding non-face-to-face channels, and will strengthen support for digitalization by utilizing group and external functions and providing non-face-to-face functions, thereby contributing to sustainable development of local communities by delivering new experiences and values to customers through digital transformation.
The Concordia Financial Group and the Bank of Yokohama were certified as "DX Certified Business Operators" by the Ministry of Economy, Trade and Industry in July 2022 as businesses that are ready to promote digital transformation.

Digital Transformation of Branch Operations
Transition to next-generation branches
The Bank of Yokohama introduced "Semi-Self-Service Teller Machines" at 29 branches by FY2021, where customers can make deposits and withdrawals with their cash cards by themselves with the assistance of Bank of Yokohama staff using "Quick Counter ATMs". In order to further improve the efficiency of over-the-counter operations and increase customer convenience, we will continue to move forward with the introduction of this teller window, as well as the transition to next-generation branches, including the establishment of TV teller windows and the upgrading of the "AGENT" next-generation sales branch tablet terminal.
In addition, Higashi-Nippon Bank is introducing tablet terminals at its sales branches to eliminate the use of seals and enable paperless filing of various notifications, such as change of address.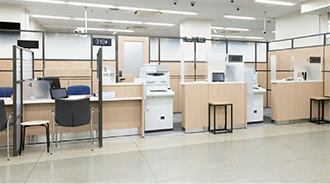 Introduction of digital support staff
The Bank of Yokohama has assigned digital support staff to ATMs with Quick Counter ATMs to assist customers with the installation and initial setup of the "Hamagin App" and to guide customers who wish to make deposits, withdrawals, transfers, and tax payments to the ATMs, starting in May 2022. This is an initiative to provide customers with more convenient mechanisms and digital services, such as a way to complete procedures without coming to the store, and will be expanded to all stores in the future.

Digital Transformation of Non-Face-to-Face Services
Introducing the next-generation smartphone apps
As contact with customers is shifting from face-to-face to non-face-to-face, smartphone applications are growing to become the most important channel, and as of March 31, 2022, 810,000 Bank of Yokohama customers were using these applications.
In the future, we will expand non-face-to-face transactions by making all functions into a single application, and pursue the provision of functions that are close to customers' lives, such as providing notifications to customers (scheduled for release in FY2022).

Fusion of digital and human
The contact center at the Bank of Yokohama headquarters provides customers who wish it a high level of non-face-to-face consulting and or consulting with a human touch. By sharing a computer screen with telephone explanations and projecting the same materials, we are able to provide a high level of customer service in an impersonal manner.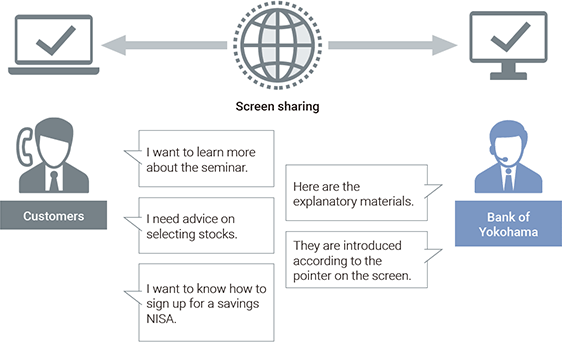 Providing non-face-to-face functions to corporate customers
Since January 2020, the Bank of Yokohama has been offering "Hamagin Business Connect," a membership portal site for corporations, as a non-face-to-face service aimed at improving customer convenience. Business Connect offers a variety of non-faceto-face features, such as the Web Overdraft Service, which allows customers to complete online applications for new and continued borrowing within the overdraft limit of their overdraft agreement.
In addition, we are working with a fintech company's platform via an open API to centrally manage deposit account information from other banks and deposit account information from the Bank of Yokohama in order to enhance the sophistication and convenience of our customers' fund management.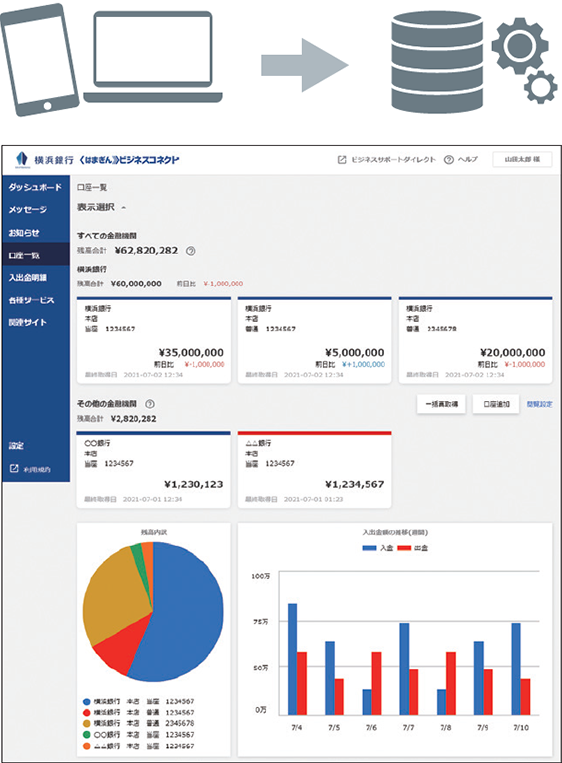 Digital Transformation with Customers and Local Communities
Digitalization support
The Bank of Yokohama is working to understand the digitalization issues faced by its customers and to provide optimal solutions by sharing information with headquarters and utilizing group and external functions. In order to provide optimal solutions, we work with about 50 digital companies that provide information processing services and cloud-based labor and HR systems. In the future, we will gradually expand the number of companies with which we collaborate, including those capable of complying with the revised Electronic Bookkeeping Act and the invoicing system. For our customers, we focus not only on business matching, but also on providing digital consulting services to improve the efficiency of business processes and to help resolve management issues.

Initiatives to promote cashless payment
Participating in "Cotra", a new payment infrastructure for high frequency small payments, the Bank of Yokohama will provide remittance services through the "HamaPay" application (scheduled for sometime during 2022).
To promote cashless payment in the region, the Bank of Yokohama is also working with local governments and businesses on a demonstration experiment to realize a new payment method for using buses. In this demonstration experiment, customers are already using "HamaPay", a smartphone payment service equipped with Visa's touch payment function, and the "Yokohama Bank Card", both of which are provided by the Bank of Yokohama.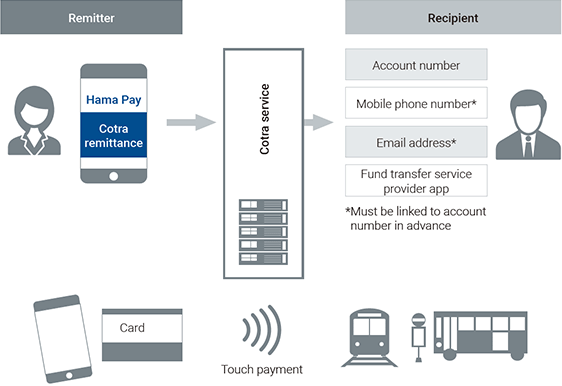 Web acceptance of account balance certificates for auditing companies
In May 2022, the Bank of Yokohama became the first regional bank to begin accepting and responding to balance certificates (confirmation of bank and other transaction balances) for audit corporations via the web through the "Bank Web Confirmation Function" of the "Balance Gateway" platform provided by the Audit Confirmation Center GK.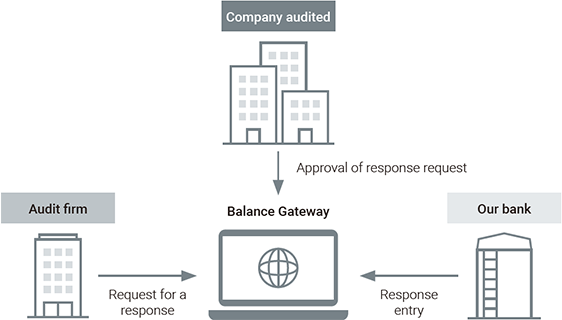 IT
Infrastructure Development
In addition to strengthening the "customer contact layer" such as the next smartphone application, we are developing an "online data integration infrastructure" to quickly and cost-effectively connect to internal systems, external services, and account systems.
New data generated at the customer contact layer will be accumulated in the "information layer," analyzed and verified by data science human resources and AI, and used for marketing and other purposes at an accelerated pace.
A new sales loan support system is scheduled to be introduced in 2024 in order to enhance the sophistication and efficiency of bank employees' sales activities. In addition, the bank plans to adopt an open infrastructure for its banking system, making it the first in the banking industry to open its shared mission-critical system.
We will improve system flexibility by migrating more than 50% of the major systems to the public cloud as system infrastructure to support the entire system.

Strengthening regional bank cooperation
In November 2021, all the banks using the 13 NTT Data Regional Banks Joint Center and 5 MEJAR banks, which use the same BeSTA banking system package, established the Regional Bank Joint Center and MEJAR System Working Group (CMS-WG) to study the efficiency of system operation. The CMS-WG will examine ways to improve the efficiency of system operations, with a focus on the accounting system.
In addition, as the first phase of the CMS-WG's efforts, a mutual app distribution scheme utilizing the online data collaboration infrastructure will be launched in May 2022.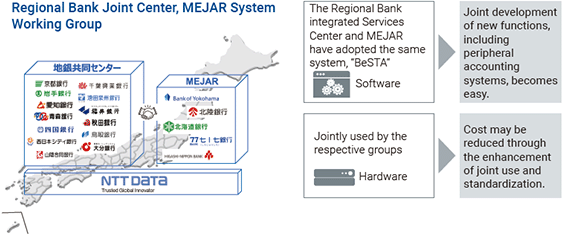 Outline of Mutual Distribution Scheme
1.

Business apps (approximately 20 operations) that have already been developed at leading banks of both centers can be adopted by banks that wish to use these business apps (adopting banks). The adopting banks can adopt the apps in a short period of time and at a low cost by following the work of the leading banks.

2.

Conducting joint studies of new business apps at both centers

3.

In addition to both centers, the apps are being provided to other banks and other joint centers (banks other than CMS-WG)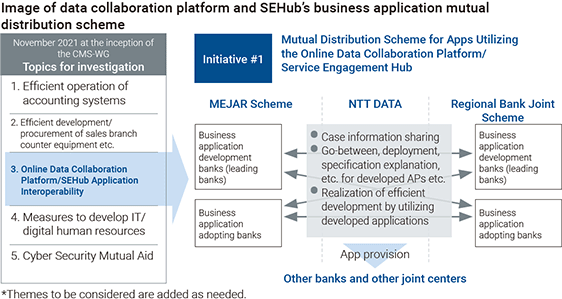 Structure for Realization of Digital Strategy
Strategic Investment Control
To realize our digital strategy and respond to increasingly sophisticated cyber security risks, we will allocate management resources to strategic investments*1 and security investments*2 in a focused manner.
On the other hand, the cost of the existing system needs to be significantly reduced, and we will use the "System Strategy Liaison Meeting" that we host to control the investments of both banks. We will also actively promote cost sharing through alliance expansion.
*1

Investments related to IT and digital are classified into three areas: transformation, growth, and operations, and those classified as transformation and growth are defined as strategic investments

*2

Defined as cybersecurity-related investments

Organization and Human Resources
In order to improve the IT literacy of the entire organization and strengthen specialist human resources, we define human resource images and expected roles for each training system, and promote planned recruitment and training. In addition, we set targets for the number of persons to be trained in each training system. In addition to employees, IT literacy study sessions for our officers (including outside officers) and general managers and those of the two banks have been held regularly since FY2021.