Lifestyle Support in the Age of Centenarians
As a lifelong partner, we support our customers' affluent lifestyles in the age of centenarians by providing optimal solutions for each stage of their lives.
New Medium-Term Management Plan Strategy
Providing solutions to match the life stage
With a broad menu of financial products such as banking, securities, insurance, and trusts, we provide optimal solutions for each customer's life stage. We also work to expand face-to-face and non-face-to-face channels, including expanding insurance parlors and development of the next smartphone app.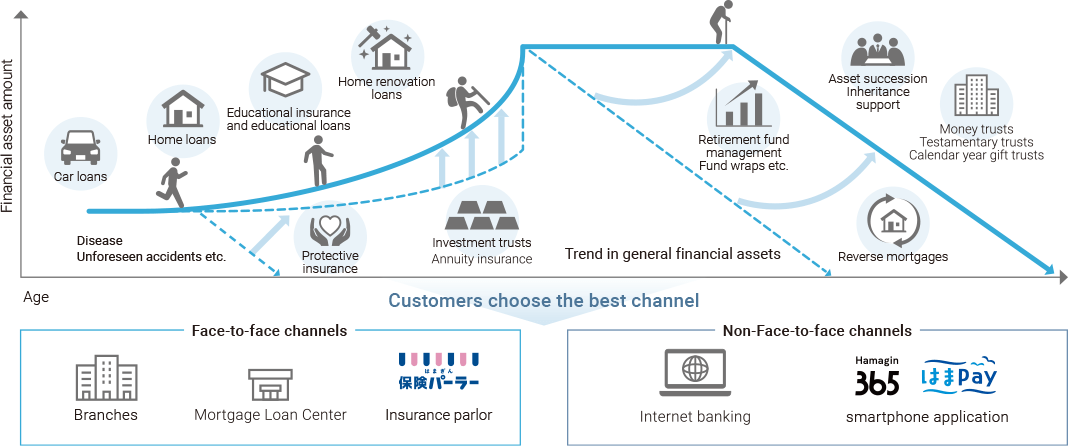 Providing tailor-made, one-stop solutions
We provide tailor-made, one-stop solutions to affluent customers. These have expanded through loan transactions, by utilizing direct sales at headquarters, group functions, and outside experts.
We also work to provide comprehensive solutions to customers with financial assets by strengthening our wealth management services.

Provide solutions for high-net-worth customers
Under the previous medium-term management plan, we worked to strengthen our ability to provide solutions to meet the needs of "real estate utilization," "financial asset management," and "asset succession," thereby expanding our high-net-worth customer base.
Under the new medium-term management plan, we will improve profitability by strengthening our ability to provide tailor-made, one-stop solutions to this customer base.
Capability to provide solutions strengthened during the previous mid-term management plan period
Loans for asset owners (real estate utilization)

Through sales activities that reflect market characteristics, personnel allocation, and human resources training, the average balance of loans to high-net-worth customers, mainly those who own real estate, increased by approximately ¥300 billion during the previous medium-term management plan period, expanding our wealthy customer base to over 20,000.

Financial Products (Financial Asset Management)

The Group's assets under custody increased by approximately ¥140 billion during the period of the previous medium-term management plan as a result of product expansion and the Group's concerted efforts to propose portfolios in accordance with a goal-based approach. With an earnings structure that does not rely on sales commissions, we are transforming ourselves into a stable stock business.

Consulting (asset succession)

We provide optimal solutions to our customers through group functions and the use of outside experts. The number of consulting contracts approximately doubled during the previous medium-term management plan period.

Initiatives in the New Medium-Term Management Plan
In the new medium-term management plan, we have newly defined those customers who select multiple solutions such as asset-based loans, financial products, and consulting as "partners".
The profitability of each partner is high, and we aim to improve our profitability through initiatives that customers can choose.

Providing Solutions for Asset-Building Customers
We are working to enhance support for living in the age of centenarians, including support for asset building in accordance with life plans and assistance in managing financial assets in retirement.
As a lifelong partner, we will stay close to our customers and help them live prosperously by providing them with financial products and services that best suit their life stages.
Enhancement of Bank of Yokohama Fund Wrap Function
In April 2021, Bank of Yokohama began offering the "Bank of Yokohama Fund Wrap" as a product that can provide gradual asset growth in line with economic growth and preparation for future life events in the age of centenarians. By regularly confirming our clients' intentions and reflecting them in our investment proposals, we are able to manage assets in accordance with each client's needs through the fund wrap.
In addition, as a function to deal with the risk of interruption of policy asset management by elderly customers etc., we began offering a special agreement for representatives in April 2022, which enables continuous asset management by family members.
Expansion of Trust Functions
In October 2019, the Bank of Yokohama began handling the "Hamagin Okane Trust", a money trust based on a testamentary substitute function to meet the needs of customers for the management and succession of their financial assets. The cumulative number of such contracts signed now exceeds 3,000.
In addition, in order to meet the needs for asset succession measures during one's lifetime, "Hamagin Donation Trust," which supports gifts during one's lifetime, is available from October 2021.
Expansion of Hamagin Insurance Parlor
The Bank of Yokohama has established the "Hamagin Insurance Parlor", a dedicated insurance consultation service to meet the insurance needs of each stage of life. Our professional staff, who are "insurance professionals" with a thorough knowledge of the characteristics of insurance products, will propose the best insurance plan for you, carefully checking your life plan, your needs, the contents of your existing insurance coverage, and whether or not you need to review it. In order to meet growing insurance needs, we will open new branches in Atsugi and Kamiooka in 2022, for a total of four branches in Kanagawa Prefecture.
Start of Hamagin Smart Charge Service
The Bank of Yokohama has begun handling "Hamagin Smart Charges" using the "Hamagin App" smartphone application from June 2021. This loan product uses big data such as transaction details to pre-screen eligible customers and provides information on the amount that can be borrowed and interest rate levels through the Hamagin App and other means. From application to formal screening, contract, borrowing, and repayment, all can be completed within the app. The Bank of Yokohama Group's Hamagin Research Institute has developed a proprietary model for selecting target customers.
Initiatives for Financial Education
The Bank of Yokohama is engaged in a unique financial and economic education program called "Hamagin Okane no Kyoshitsu" (Hamagin's Money Classroom), which aims to spread and improve financial literacy for the fostering of children, the future leaders of the region, and for the further growth of the region. We have set goals in four major areas, including "lifestyle planning and household budget management" and "financial and economic systems," and are committed to long-term financial education not only for children, but also for adults, the elderly, and all people living in the community.

Initiatives through tie-ups with other companies
Holding "Hamagin Money Class - Keikyu Kids Challenge ver." with the Keikyu Group

We collaborated with the "Keikyu Kids Challenge!" summer series, sponsored by the Keikyu Group, to offer an online program to help people learn about the use and importance of money.
Program Contents
Let's keep an allowance book!

Spend your money fantastically!
What would you spend your money on if you were going out?
Let's think about that while we're keeping our allowance sheets!
Work experience website "Bank of Yokohama x EduTown Ashitane 'What is a job at a bank?' Online Work Experience"

A special website has been launched in "EduTown Ashitane", which is operated by Tokyo Shoseki Co., Ltd., with videos to learn about jobs at banks, branches, people working there, and money. In addition to worksheets corresponding to the videos, the site also includes teaching materials for teachers, such as a teaching plan describing how to proceed with the work experience class, so that students can not only watch the videos at home, but also use them in their classes at school.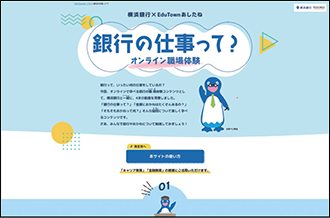 Received the "Consumer Education Material and Resource Award 2022 Excellence Award" from the National Institute on Consumer Education
In June 2022, the "Hamagin Okane no Kyoshitsu" (Bank of Yokohama Money Classroom) website, which is part of our financial education efforts, received the "Consumer Education Material Award 2022 Excellence Award" sponsored by the National Institute on Consumer Education (*).
This award system recognizes educational materials created by governments, business and industry associations, consumer groups, and NPOs across Japan by March 2022 that can be used effectively in schools.
Given the social climate of the coronavirus pandemic, we launched this website in December 2020 to provide online financial education opportunities. This site offers videos on basic money education, easily downloadable teaching materials, quizzes, etc., and is used by many people at educational sites and at home.
(*)

The National Institute on Consumer Education was established to contribute to the enhancement and development of consumer education in schools, and is a specialized organization that conducts survey research and prepares teaching materials on consumer education for young people.