Supporting Sustainable Growth of Local Businesses
We will contribute to the sustainable growth of local companies by working together as a group to provide high value-added solutions that deeply engage the management strategies of our customers by sincerely addressing the issues they face.
New Medium-Term Management Plan Strategy
Provide solutions utilizing group and alliance functions etc.
We aim to be the first choice as a partner for our clients by utilizing group functions, deepening cooperation with outside businesses, by strengthening the provision of strategic solutions that deeply engage management strategies such as business, financial, and capital strategies, and by responding to increasingly diverse and sophisticated needs.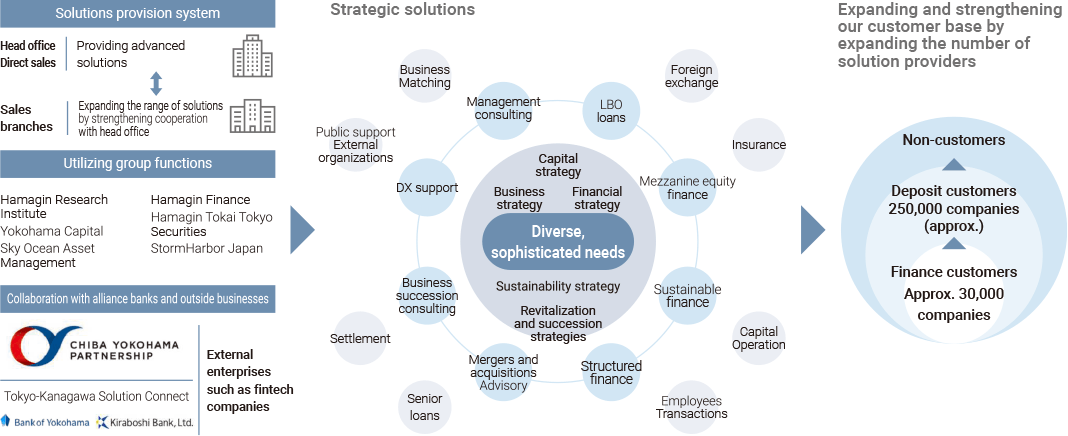 Deepening and expanding from traditional finance areas
We will improve profitability by strengthening asset allocation in financing areas that go beyond conventional frameworks, such as M&A financing, and by working to provide high value-added financing.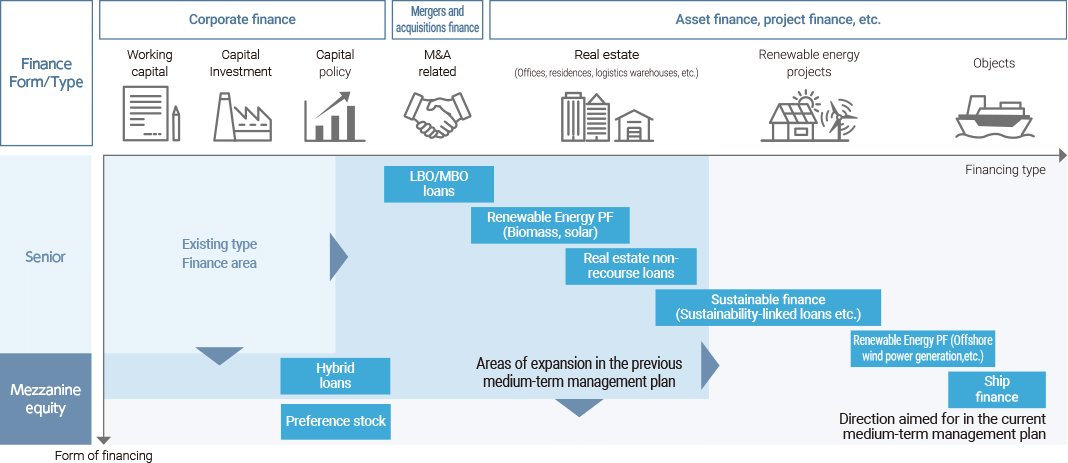 Strengthen provision of strategic solutions
In the new medium-term management plan, we have positioned solutions that deeply engage management strategies as "strategic solutions", and have newly defined customers who select strategic solutions as "partners".
We will expand and strengthen our customer base in the home market by offering solutions not only to loan customers, but also to local companies, including depositing and non-customer corporations.
In addition to senior loans, we will also seek to build up our loan assets by providing solutions through high value-added financial support.
The profitability of each partner is high, and we aim to improve our profitability through initiatives that customers can choose.

Strengthening efforts in areas of finance beyond conventional frameworks
During the previous medium-term management plan, we expanded our efforts from traditional lending centered on senior loans to new areas of finance such as M&A finance.
Under the new medium-term management plan, we will further expand finance areas and strengthen our sourcing capabilities by returning and sharing the know-how accumulated at the head office in areas such as M&A finance and project finance to our sales branches, thereby increasing our structured finance balance.
We will enhance our earning power by strengthening our allocation to highly profitable assets.
Balance of typical structured finance assets
Strengthen solutions business by utilizing overseas bases
With a focus on Asia, which is a growth region, our domestic sales branches and overseas offices will work together to strengthen the provision of solutions to our customers.
Specifically, in addition to strengthening financial support such as loans to overseas subsidiaries of our customers, we will provide solutions such as overseas expansion support and M&A in cooperation with external experts and other regional banks. In addition, we will enhance profitability by strengthening our efforts in overseas operations, including loans to non-Japanese corporations.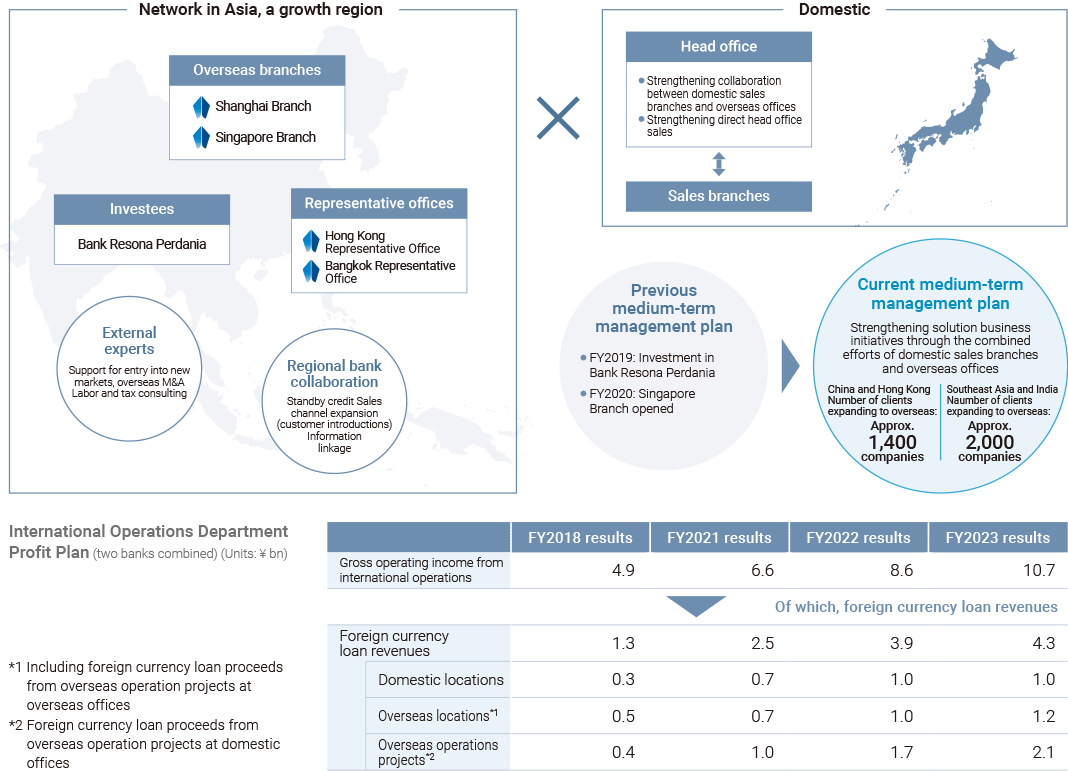 Measures undertaken
Increase in lending to customers' overseas subsidiaries

Overseas branch loans

Standby credit

Cross-border loans

Borderless development of solution business

Advancement support

Mergers and acquisitions

Sales channel expansion etc.

Strengthen initiatives for overseas operations

Portfolio diversification (countries/industries)

Strengthen sourcing capabilities (utilization of overseas offices)

Expansion of target areas (non-Japanese high-credit areas)
Higashi-Nippon Bank's Initiatives (Strategy to Be a Total Partner of Small and Medium Enterprises)
Aiming to be a "total partner for small and medium-sized enterprises," we will provide optimal solutions for each customer's lifecycle by providing sympathetic "face to face" service.
In addition, by increasing branch efficiency, consolidating operations at the head office, and concentrating management resources in the 23 wards of Tokyo, we will achieve an operating structure that achieves overwhelming efficiency as a regional bank in the 23 wards of Tokyo.
Strengthening support for each company's lifecycle phase
Through business feasibility assessments, we will better understand the needs and challenges of our customers and enhance our solution menu for all lifecycle issues, thereby contributing to the sustainable enhancement of their corporate value.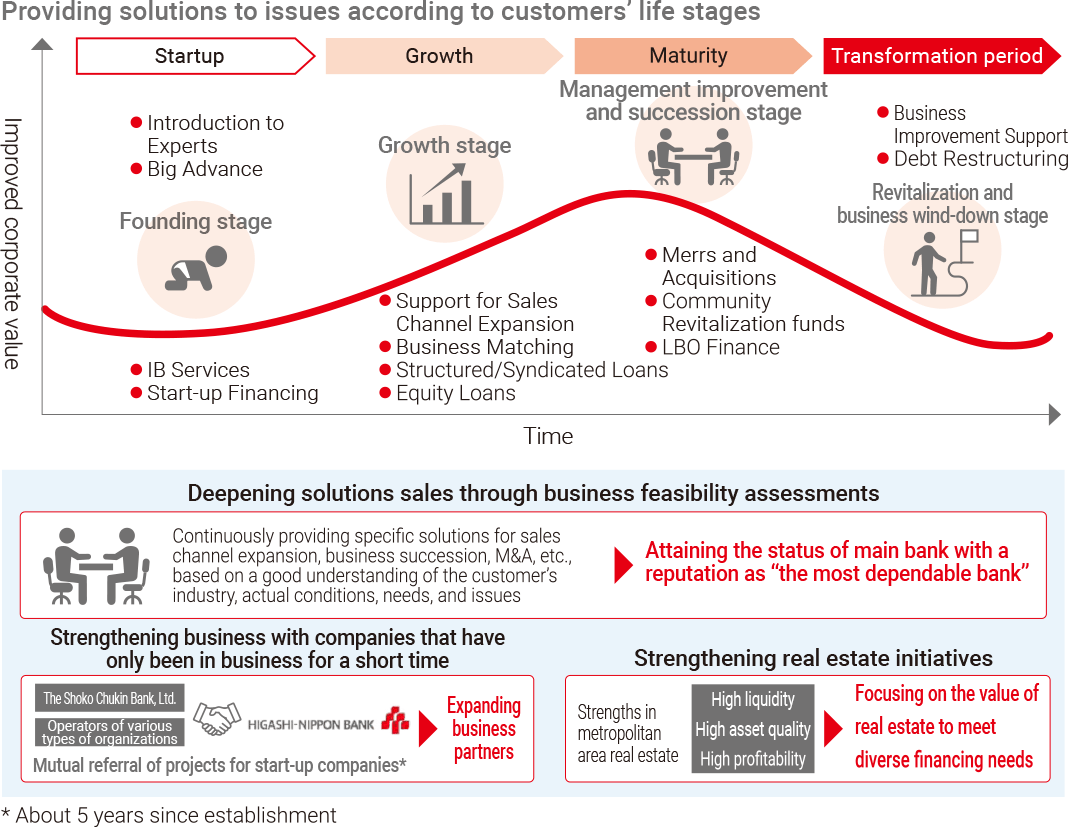 Establishment of an efficient sales structure
We will establish an efficient sales structure in the 23 wards of Tokyo by increasing the number of sales personnel in this area and centralizing the administrative work of sales branches to the head office.
Improving branch efficiency, concentrating operations at headquarters, and concentrating management resources in 23 wards of Tokyo

Specific examples of strategic solutions provided by the Bank of Yokohama
Capital strategy solutions for listed companies
We are promoting increased sophistication of our solutions business and strengthening our ability to provide solutions for our customers' capital strategies, centered on professional human resources belonging to the direct sales division of headquarters. Against the backdrop of the reorganization of the Tokyo Stock Exchange, we are increasingly taking on capital strategy advisory assignments for our approximately 1,000 listed corporate clients.
For example, in FY2021, as a result of the Bank of Yokohama providing capital strategy consulting services to a listed company facing management issues such as business model reforms and inheritance measures for shares held by the founder, we chose to go private through an MBO (*1), leading to the execution of an MBO loan solely by the Bank of Yokohama. As a result of these efforts, the balance of M&A financing (*2) increased by approximately ¥100 billion during the previous medium-term management plan period, bringing the balance to approximately ¥110 billion.
We also provide financial and capital strategy solutions through hybrid loans (*3) to listed companies that face the dual challenges of raising funds to implement growth strategies and improving their financial soundness through capital reinforcement. Our flexible solutions have been well received, and Bank of Yokohama's efforts in independently underwritten deals have progressed, with the hybrid loan balance increasing by more than ¥80 billion during the previous medium-term management plan period to a balance of more than ¥100 billion.

Turnaround and succession strategy solutions for SMEs
Against the backdrop of the aging of business owners and the absence of successors, which is the case for more than 60% of all business owners (*4), we are actively engaged in supporting business succession in order to support the sustainable growth of local companies. We not only have loan clients, but also a wide range of deposit-only clients, including debtfree companies.
For example, in FY2021, for a deposit-only client who was concerned about the succession of shares from the founder to his daughter due to a rise in his company's stock price and the absence of a business successor, we established a stock succession scheme by establishing a holding company and provided support for the succession of assets to relatives. In collaboration with our partner tax accountancy company, we propose succession schemes, leading to business succession consulting contracts and the provision of solutions such as senior loans and business matching.
(*1)

MBO: Acquisition of a company's shares etc. by our management

(*2)

Total MBO loans and LBO loans outstanding

(*3)

A loan that is closer to equity than a regular senior loan and has a stronger equity nature A certain percentage is recognized as equity, depending on the rating agency's assessment.

(*4)

From Small and Medium Enterprise Agency Business Succession Guidelines (March 2022)

Specific examples of the Bank of Yokohama' s efforts to strengthen its overseas solutions business
Expansion of support system in Asia
In addition to the Bank of Yokohama's overseas offices, we are expanding our system to support our customers' overseas business through collaboration with other organizations and financial institutions.
In November 2021, we signed a business alliance agreement with Kyoto Bank regarding international operations. Since 2015, the two companies have been collaborating at the Bank of Yokohama's Shanghai branch. This business alliance agreement expands the scope of collaboration from China to ASEAN. By sharing and utilizing the networks and know-how of both banks and providing higher quality consulting services, we will strengthen our support for our clients' overseas business. In December 2021, we also concluded a "Memorandum of Understanding for Business Collaboration and Cooperation" with JICA Yokohama.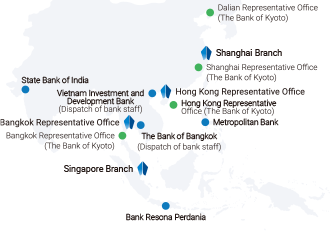 Increase in lending to overseas subsidiaries of our customers
We are enhancing lending to our customers' overseas subsidiaries through overseas branch loans, cross-border loans, and stand-by credit. Through efforts such as strengthening cooperation between the head office, domestic sales branches, and overseas offices, and expanding the overseas network, the balance of foreign currency loans increased by more than ¥200 billion to over ¥450 billion during the previous medium-term management plan period.
In addition, the Singapore Branch is promoting ship finance for Japanese subsidiaries in Singapore, taking advantage of the characteristics of the market, which has a high concentration of shipping companies and strong demand for funds.
Borderless development of solution business
With more than 3,000 business partners expanding into the growing region of Asia, the need for overseas business solutions, such as M&A, new business entry, and local business expansion, is increasing. The Bank of Yokohama is strengthening the borderless development of its solutions business by integrating its domestic sales branches and overseas offices.
For example, in FY2021, for a food manufacturer with overseas business expansion needs, Company A, our staff dispatched to our partner bank, the Vietnam Investment and Development Bank, and our head office worked together to match business with a major local wholesale company, resulting in the decision to export samples of the customer's products throughout Vietnam.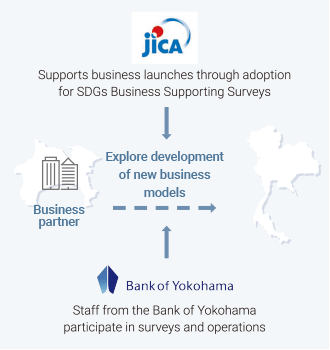 Specific examples of strategic solutions provided by Higashi-Nippon Bank
Support for start-up and growth companies

For companies that have been relatively recently established, such as those in the start-up or growth stage, we work to provide business matching support with experts and outside businesses in order to support the continued growth of their businesses.
For example, in FY2021, we introduced not only a real estate broker but also a remodeling company to a customer who wanted to purchase a company building, leading to the construction of an office with a café for the purpose of enhancing employee benefits.
Through a wide range of introductions tailored to customer needs, the number of business matching contracts concluded in FY2021 totaled 1,620.

Support for mature companies

We are promoting initiatives to support business succession for companies in their mature stage.
For example, in FY2021, in the case of a client in the custom-built furniture manufacturing industry, which had difficulty continuing operations due to the sudden ill-health of its representative, we promptly introduced them to a design company specializing in custom-built housing that was considering expanding its business domain, resulting in an M&A deal and contributing to smooth business succession for a local company.
As a result of these efforts, nine M&A transactions triggered by business succession needs were concluded in FY2021.