Group Sustainability Policy・Long-term Sustainability KPIs
Group Sustainability Policy
Based on our management philosophy, we at the Concordia Financial Group will achieve sustainable improvement in corporate value and solve social issues through our core business and will contribute to the sustainable development of society by engaging in activities that contribute to the community as a member of the community.
Under this policy, the Group will confer with stakeholders on its initiatives and actively disclose information.
Long-term sustainability KPIs
As an action plan based on the Group Sustainability Policy, we have established "Sustainability Long-term KPIs" through FY2030.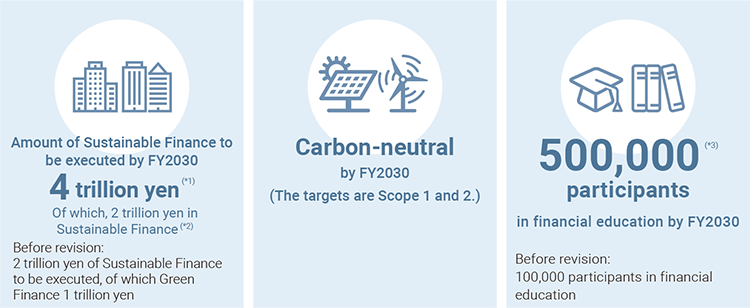 1)

Cumulative amount of the Group's investments and loans executed from FY2019 to FY2030 used to finance environmental and social issues and that support or promote initiatives for the SDGs (Green finance is investments and loans that are used to finance environmental areas.)

2)

The overall total number of participants in financial education from FY2019 to FY2030 who will have attended various financial seminars, work experience, onsite classes, and other financial education programs conducted by the Group