The Concordia Financial Group (hereafter referred to as "the Group") has updated its long-term vision to be a "solutions company that is rooted in the community and is chosen as a company that works together with the community" and has launched a new medium-term management plan in April. With "Sustainability" as one of the basic themes of our medium-term management plan, we will strive to establish sustainability management and promote efforts to solve problems in local communities.
Looking at the management environment, amid the prolonged impacts of COVID-19, interest in social and environmental issues such as climate change is rapidly increasing.
As the importance of countermeasures against global warming and climate change grows even greater, the Group is accelerating its efforts on decarbonization of its own operations by moving the target year forward for achieving carbon neutrality of its own operations from FY2050 to FY2030. For our customers, we are actively supporting their efforts on decarbonization by expanding solutions centered on sustainable finance, such as sustainability link loans and positive impact finance.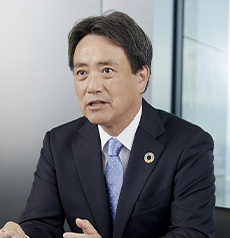 In addition, the importance of human capital is increasing for the sustainable improvement of corporate value. The Group will strengthen investment in human capital and develop human resources to strengthen solutions sales in order to transform into a "solutions company." Furthermore, through the promotion of diversity, equity and inclusion, we will create an environment in which each employee (with their diverse values) can demonstrate their abilities.
Sustainability efforts are the management strategy of our company as a regional financial institution, and by further promoting efforts that contribute to solving social and environmental issues through our core operations, we aim to achieve sustainable development of local communities and enhance the corporate value of the Group. Your understanding and support going forward is sincerely appreciated.
Concordia Financial Group, Ltd.
President and Representative Director