Revitalizing Local Economies
Initiative Policies
As a regional financial institution, the Group hopes to achieve a "sustainable virtuous circle" in which we also grow by proactively working to resolve regional and social issues and contributing to making the region attractive and the revitalization of local economies.
Based on these types of policies, in addition to supporting the implementation of measures to realize the government's vision for the regions, the Bank of Yokohama is promoting initiatives (regional strategy promotion activities) to solve regional and social issues such as "town creation," "people flow creation" and "job creation," making use of a diverse network in industry-academiagovernment-financial institutions, based around "regional strategy promotion action plans" that are formulated taking into account the characteristics of the regions in which we operate.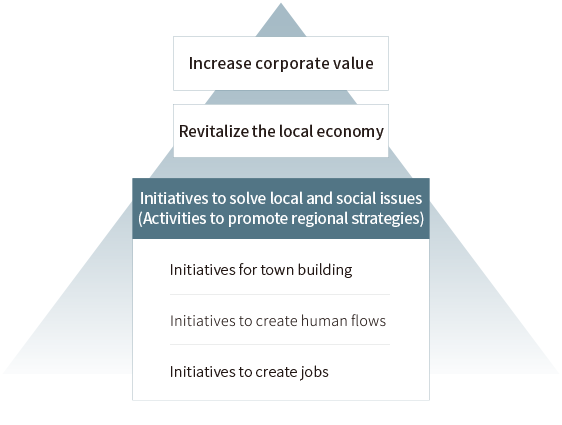 Our visualization study of the social effects expected to be brought about by regional strategy promotion activities continues.

Regional Strategy Promotion Systems
The Bank of Yokohama has at its head office a Regional Strategic Planning Department that is responsible for formulating visions for regions and plans to achieve them, and a regional headquarters structure that organizes our business area into two regions (head office, and Tokyo and outlying areas) and five regions (eastern, western, southern, Kawasaki, and central) to enhance the effectiveness of regional strategy promotion activities.

Sustainable Town-Building Initiatives
Establishment of a "Regional Decarbonization Platform" for local governments in Kanagawa Prefecture
The Bank of Yokohama established the Regional Decarbonization Platform for local governments in Kanagawa Prefecture in May 2022 in order to contribute to the promotion of regional decarbonization. The platform will be mainly used by local governments and will provide a forum for matters such as introducing examples of the latest initiatives or technologies related to decarbonization, for networking among decarbonization professionals in local governments, and for considering demonstration projects. Upon the platform's establishment, NTT Data Institute of Management Consulting, Inc., and Hamagin Research Institute Co., Ltd., also signed a collaboration agreement with it to support and promote regional decarbonization measures of local governments. Based on the collaboration agreement, the three companies will work together on the operation of the platform, as well as on policies, proposals for implementation, and support for decarbonization by local authorities.
Established "Regional Decarbonization Platform" to solve decarbonization issues faced by local governments in the prefecture through collaboration among industry-academia-government-finance cooperation.
Participation in the evaluation of the impact of Odawara City's initiatives to locally produce energy for local consumption
In November 2021, the Bank of Yokohama, together with Sumitomo Mitsui Trust Bank, Limited, and Hamagin Research Institute, concluded a collaboration agreement to conduct an assessment of the impact on the local economy, society and environment created by Odawara City's initiatives to produce local energy for local consumption. As it strives to achieve carbon neutrality, Odawara City is promoting projects such as the expansion of renewable energy installations, and the construction of a local microgrid that generates energy locally for local consumption. With Odawara City aiming to realize a local-energy-production-for-local-consumption model, it acts as a model case for providing support across our all our businesses, so we will be considering also expanding the impact evaluation measures to other regions in the future. A result of implementing these measures is that we, along with Sumitomo Mitsui Trust Holdings, Inc., received the "FY2021 Special Award, Selection Committee Chairman's Award (Regions Category)" under the "Principles for Financial Action for the 21st Century" supported by the Ministry of the Environment of Japan.
Participation in Yokohama City's "Social Impact Bond" model project
From September 2020, the Bank of Yokohama participated as a fund provider in the "Social Impact Bond" model project (SIB model project) of the City of Yokohama. After the effects of this project were verified and the project was found to have been effective, Yokohama City's Kohoku Ward launched the "Online Maternal and Child Health Consultation" service in May 2022. This service was the first service that Yokohama City has implemented as an initiative through the SIB model project.
Outline of SIB Model Projects for FY2020-2021
Verification of effectiveness

We tested whether the risk of postpartum depression could be reduced through "online health and medical consultations".

Subjects

Volunteer expectant and new mothers, who are particularly prone to anxiety from when they become pregnant until four months after giving birth (about 730 participants)

Method

Participants in the model project were randomly assigned to Group A that had access to services (intervention group) and Group B that did not have access to services (control group), and the postpartum depression risk between the groups was compared.

Study structure

Service provider: Kids Public Inc.
Intermediate support organization: EY Ernst & Young ShinNihon LLC
Research Institution: National University Corporation University of Tokyo (Department of Health and Social Behavior, Graduate School of Medicine)
Third-party evaluation organization: Public Management and Social Strategy Institute Inc.
Funded by: The Bank of Yokohama, Ltd.

Final evaluation

The depression rate among participants at a high risk of depression three months after giving birth, the final outcome indicator, was 15.2% for Group A (intervention group) and 22.8% for Group B (control group), showing that the intervention group had a lower risk of postpartum depression.
Participation in 'Kanagawa Pay', Kanagawa Prefecture's cashless consumption stimulation project
In October 2021, the Bank of Yokohama launched the first phase of "Kanagawa Pay", a cashless consumption stimulation project that the Bank is undertaking together with Kanagawa Prefecture, with the second phase implemented from July 2022. In this project. consumers collect points that give them back the equivalent of up to 20% of purchase amounts when they use a QR code to pay through "Kanagawa Pay" at participating stores such as local retailers, service providers, and restaurants. The Bank of Yokohama, as the institution representative of the joint venture, was entrusted by Kanagawa Prefecture with the management of this project, to support businesses in the prefecture whose sales had declined due to the impact of the Covid-19 epidemic, and to promote cashless payments as the payment settlements provider offering the "HamaPay" smartphone payment service.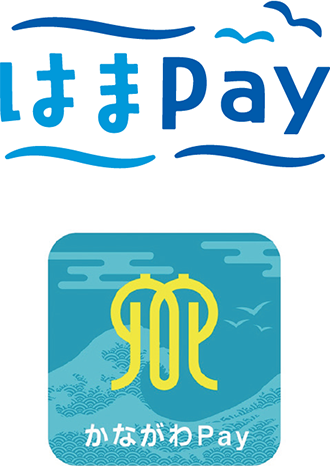 Initiatives to Create "A Flow materialities of People" to Regions
Area Management in Miura Peninsula
In March 2022, the Bank of Yokohama concluded a "Miura Peninsula Area Management Partnership" with Keikyu Corporation. By mutually leveraging assets such as in-house know-how and networks with companies, local governments, and universities, we are collaboratively promoting area management activities that create new business opportunities and are promoting efforts to revitalize the economy on the Miura Peninsula.
Collaboration between Keikyu and Cookpad to support expansion of the sales channels for local products from the Miura Peninsula
In April 2022, the Bank of Yokohama began supporting the expansion of sales channels for local products from the Miura Peninsula by installing "Mart Station," a fresh-food delivery box provided by the "Cookpad Mart" business operated by Cookpad, Inc. at the Bank's ATM corners. We are also working to revitalize the local community through "food" by introducing items such as recipes that use Miura vegetables (local products of the Miura Peninsula) and their producers on the Cookpad Mart application.
Efforts to revitalize tourism in Miura City by utilizing local resources
In April 2022, the Bank of Yokohama supported the opening of the "Misaki-Juku Edo no Kurayado" (Misaki Inn Edo Storehouse) via an investment in Miura Trust Co. by the Tourism Heritage Industrialization Investment Project Limited Liability Partnership (Tourism Heritage Industrialization Fund). The bank has concluded a "Collaboration Agreement on the Revitalization of Tourism in Miura City Utilizing Local Resources" with us, Miura City, the Regional Economic Revitalization Initiative Corporation (REVIC), and Keikyu Corporation. Based on this agreement, in addition to investing in the company, we are also working to revitalize tourism through advice on business operations, cooperation in funding renovations, etc.
Revitalizing Kiyokawa Village Tourism
The Bank of Yokohama signed an "Agreement on Collaboration for Regional Revitalization" with Kiyokawa Village in November 2019. In November 2021, we signed an "Agreement on Collaboration and Cooperation for Sustainable Regional Revitalization" with Cohen Corporation, which was designated as the manager of public facilities in the Miyagase area, to create tourism content and to utilize local products through various efforts, including developing not only a comprehensive outdoor business in the Miyagase area of Kiyokawa Village, but also new products using local goods.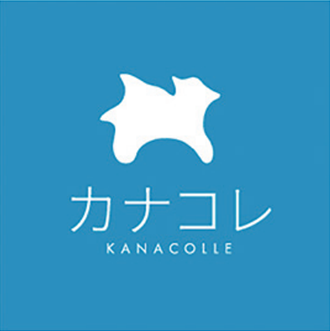 Initiatives to Create Jobs in the Region
Support for commercialization through industry-academia collaboration
Industry-academia-government-financial cooperation coordinator appointment system
The Bank of Yokohama has been appointed by National University Corporation Yokohama National University, with which we have a comprehensive cooperation agreement, as the "Yokohama National University Industry-Academia-Government-Financial Cooperation Coordinator." This program serves as a bridge between customers with technical issues and universities that conduct research that contributes to solving those issues. The number of consultations has been increasing every year as many customers are considering changing the type of their business or entering new business fields as automobiles shift to electric vehicles
Support for venture businesses through subsidy programs
The Bank of Yokohama promotes the commercialization of seeds possessed by researchers aiming to start their own businesses and recently-established start-up companies by contributing to the research and development grant program operated by the Hamagin Foundation for Industrial and Cultural Advancement. In FY2021, a total of ¥12 million in subsidies was provided to four companies. In addition, we provide accompanying support to grant recipients, and two of the four grant recipients in FY2020 were able to raise funds from venture capitalists (VCs).
Supporting student entrepreneurship
The Bank of Yokohama and Chiba Bank, with which we have a business alliance, jointly sponsor a business idea contest for students, the goal of which is to foster entrepreneurship among students, who will become future leaders of the local economy. Through the contest, a wide range of business ideas and plans are solicited from students living or studying in one of the two banks' business areas. In FY2021, 84 groups participated in the contest and 5 groups selected after making it through the qualifying round were awarded supplementary prizes totaling ¥700,000. We also provide support to award recipients by assisting them in starting their own businesses, introducing them to customers, and providing other accompanying support services.
Support for expansion of sales channels for local companies
Launch of e-commerce site "Kanacolle" to support product development and sales channel expansion of local companies
The Bank of Yokohama launched Kanacolle, a new e-commerce site that supports local companies' efforts to develop products and expand sales channels through the "New Product Development Support Project Anonymous Partnership," which both TV Tokyo Communications Corporation and Yokohama Shinko Co., Ltd., have invested in since October 2021. Based on the concept of "local & universal," Kanacolle will promote quality products of Kanagawa Prefecture, which boasts various distinctive regions such as Yokohama, Kawasaki, Kamakura, Shonan, Odawara, Hakone, Miura Peninsula, and the northern and central regions, to the rest of Japan through unique projects that are collaborations with highly recognized characters and companies from different industries in the region. The Bank supports this initiative by introducing local companies. In March 2022, this initiative received an award from the Cabinet Office and Cabinet Secretariat as an example of "Distinctive Efforts by Financial Institutions Contributing to Regional Development".